SUPERAntiSpyware
4.43.1000
Super-Anti-Fragilistic
As far as I can tell, I think I started liking small straight to the point apps for my computer. Do it all's might be good but they usually come with one of two problems attached to them. They're either expensive, or they're not very reliable. Therefore, an application that focuses on a narrow aspect of computer security might be the best of two worlds.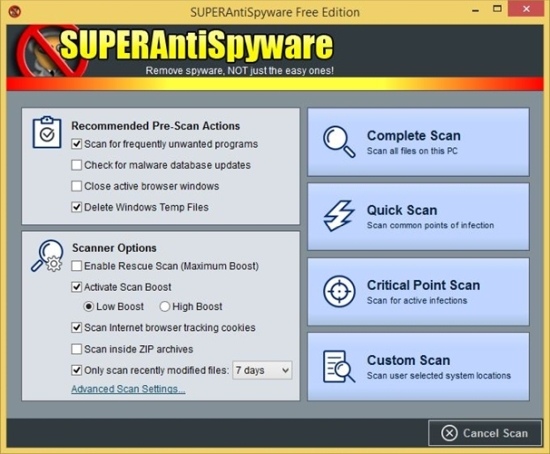 Besides having a cheesy name which manages to describe its purpose quite clearly, SUPERAntiSpyware (SAS) is designed to seek and neuter the type of Malware that steals personal data or is generally unpleasant to look at.
The Malware scanner has some pre-scan options that are worth checking out. As a general rule of thumb, you can instruct it to close browser windows before proceeding, delete windows temporary files and check for updates to make sure you run against the latest definitions. In the event that the Malware on your computer is voraciously consuming the system resources, you may want to Enable Rescue Scan, which forces a reallocation of CPU power to the scanning process. Boosting the scan can also be done under normal circumstances, as SAS is very low on resources generally speaking. As a bonus, SAS can scan inside ZIP archives and can be instructed to only look at new files, to save time.
Critical point Scan is good for detecting running Malware. It is generally a good idea to run it if you fill that something is a miss with the way your computer is behaving. Oh and, of course there's also scheduled scanning, for the forgetful user.
Finally, the most interesting feature of SAS is the System Investigator. This is a form of scan that checks out browsers and other installed programs, short cuts, running DLL's, download folders and more. All of these are compared to a white list that is edited by the community. Once SAS turns out the results, you may check how much other users are trusting these items and you can also up-vote or down-vote yourself on each one. This tool is where you get a clear picture that SAS treats its users with professionalism. You may also customize the scan by selecting which elements you want analyzed.
Besides System Investigator, there are a few more tools that are worth mentioning. SUPERDelete File Removal can delete files that have remained hanged without the possibility of regular deletion. There's also a tool for uninstalling unwanted programs. It didn't find any on my rig, so I don't know what that is all about...
Features
Customizable Malware scan
Scheduled scan
System Investigator - a customizable threat scan
File removal
Registry fixing
Pros
Low on system resources
Fast and effective
Cons
I wish I didn't have to quit my browser window while the scan is running...
Conclusion
SUPERAntiSpyware is a well though out package. Although hidden among other tools, the System Investigator is the highlight of this release and is most likely a step in the right direction. Community control of software is the future of digital security.
RELATED PROGRAMS
Our Recommendations
---
---
---
---